The RVCA South Africa Tour featuring RVCA USA Pro skateboarders Greyson Fletcher, Julian Davidson, Kevin "Spanky" Long and Aidan Campbell arrived at the Maboneng Skatepark on Saturday, 22 August to a warehouse full of make-shift ramps, hot Joburg dust and 400 excited local kids and skateboard enthusiasts.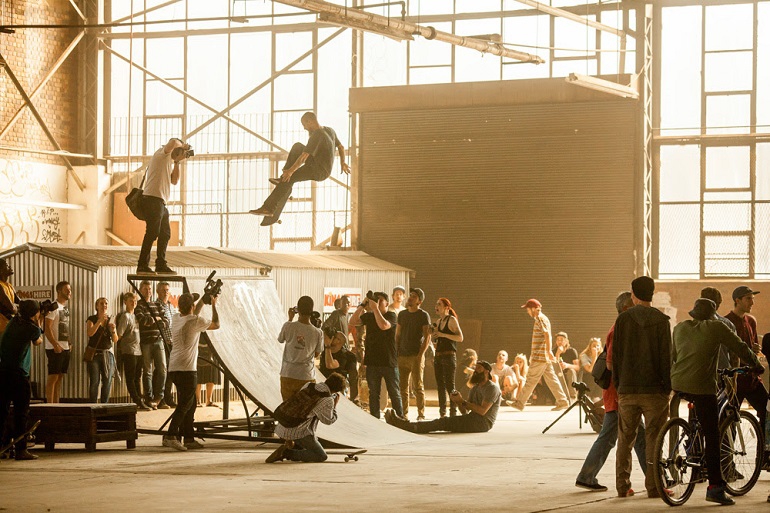 Majority of these locals have never seen international skateboarding on this level ever before and judging by the loud shouts and whistles echoing throughout the day, the kids were very stoked and very inspired. Many of the kids were able to come and hang out with the pro skaters, get their posters and skateboards signed, ask them questions and talk about skateboarding. Some kids even got onto skateboards for the first time, getting tips and help from the RVCA Team.
DJ's jammed music all day, Monster Energy provided drinks, Primi Piatti sponsored pizzas and RVCA threw out loads of free product.
The One Love Skate Expo team hosted an incredible event and did a great job at bringing together the Joburg skateboarders and kids from the local community.
"Our local scene was booming since early morning," said Quincy from the One Love Skate Expo. "By one o'clock, when the RVCA USA & SA Pro Team pulled through, close to 400 skaters from in and around the city were properly shredding the park. A great way of blending in with young skaters was visible, as our well-respected visitors dropped and popped with everyone."
"I was seriously blown away by the incredible hospitality and just straight up good vibes of the Joburg skate scene, Quincy and the One Love Skate crew," said Melissa Williams, Marketing Manager of RVCA South Africa. "The skate jam was such a super fun and positive experience, seeing this huge messed up warehouse in the middle of nowhere filled with dodgy skate obstacles and 400 kids just ripping it up and having a good time. It was so awesome seeing all these little kids get to hang out with the pro skaters from America and at the same time the American's also really enjoying getting to interact with kids who were so genuinely excited about the whole thing."
The RVCA South Africa Tour continues through Durban this week and will end off in Cape Town on Saturday 29 August with another free skate jam at Mill Street Skatepark in Cape Town at 3pm. The RVCA South Africa Tour is supported by Primi Piatti, Monster Energy and the Maboneng Precinct. To check out the One Love Skate Expo - www.olse.co.za

For news and updates you can follow RVCA South Africa on
Instagram
@RVCASouthAfrica
or on Facebook
Facebook.com/RVCASouthAfrica